The Best Graphics Collections on the Net
I have searched the web to find the best graphic collections, in my opinion, and gathered them here to save everyone some time. If you know of another link that needs to be here please let me know and I will add it.

---
The best graphics on the net
Buttons:
Caboodles Clip Art:
Toon World:
E-Mom's Rainbow Graphic Design:
Kathy's Web Designs:
Cyber Graphics:
Grafix gallery:
Connies Main Page:
A touch of country: Beautiful colorful graphics. Lots of original ones. Super site.
Laurels Heavenly Lane:
Page Place:
The Button Bin:
The Graphic Hut:
Skylight Productions:
Jenny's Graphics Collections:
Midnight Madness:
Cheryl's Kaleidoscope:
Creation Studio:
Judy's Place:
A universe of cool links:
FREE GRAPHICS:
Graphics and Such:
Beware of Cat: Wonderful cat graphics. Just what you are lookin for if you are a cat lover.
The HomePage Help Page: What can I say.... All the help you need.
The Midi Jukebox: Looking for a song for your page? Well look no further. Here they are.
Jim's Graphic's Page: Please visit this site. It has loads of information, and is very helpful and easy to understand. Thanks Jim. Keep up the good work.

---
Click on the candle below to visit my Princess Diana Page.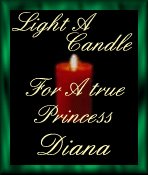 Look My Very First Award!!!!!

Thanks Connie
Sign My Guestbook
View My Guestbook
---

[Kix's Korner][Diana the Peoples Princess][Graphics Graphics Graphics][Austin's Page[Dakota's Page][Friends Pages]
---

This page has been visited
times.